"The reactionaries won. Culture war won. The...
Watch
Hyperlocal journalism in New York's East Village, produced at NYU for the New York Times. Here's the video about what we're up to. The site launches summer 2010. Join us in the summer of 2011 for The Hyperlocal Newsroom Summer Academy We'll be recruiting from all over the nation for this special summer program.  There will be opportunities to intern, assist, edit, ...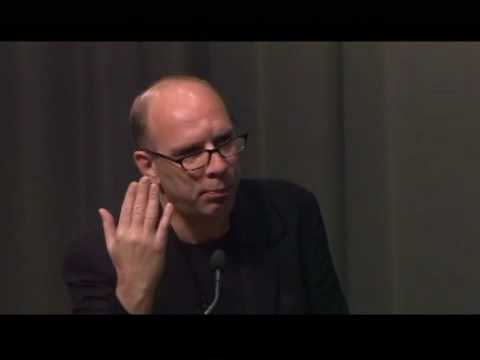 The Wrap gets Punked by Frank Luntz and Tries to...
The actual post I published at the local blog LA Observed. Go see it: The Wrap gets punk'd. But LA Observed doesn't have comments, so I am opening this space to field those. ….Based on what I know The Wrap thinks there's no story in Luntz's return to politics one month after quitting politics for Hollywood, and no reason to do a follow-up, even though it appears...
Newspaper Revanchism: Replying to a Live...
Earlier this week, the Independent (UK) ran a column by Tim Luckhurst, a professor of journalism at the University of Kent: Demise of news barons is just a Marxist fantasy. (Read it, please…)  I called attention to the column on my Twitter feed. "UK friends! Museum-quality curmudgeon specimen has been unearthed on your shores. I hope you have the preservation skills."  The other...
My strange Q & A with the editor who said: We must...
Sunday night on Twitter, a link made the rounds among people I follow. It was to an editorial in a web publication called The Digital Journalist, entitled: Let's Abolish 'Citizen Journalists'. Now I've been tracking varieties of this disdain for years, but this struck me and others as a particularly vivid—in fact, imperious—expression of it. Citizen journalist...
Watch
My 18-minute interview with Laura Flanders of GritTV. Among the explanations on offer: * what to do about journalism school; * what citizen journalism is, really; * what a "problem solving" approach to health care coverage would be like; * how the Church of the Savvy operates (that's my name for the insiders in the press corps who to try to impress us with their detached,...
No names, no links: Writers give themselves a pass...
Mark Cuban: Rupert Murdoch to Block Google = Smart I love to tweak all the internet information must be free bigots. They get so damn religious about information on the net that they lose what little objectivity and awareness of the real world they had in the first place Wherever it's found, bigotry deserves to be called out— say, with a link?  Plus, tweaking people you ID is...
Sources of subsidy in the production of news: a...
I was asked to speak recently at a conference organized by Yale University with the title "Journalism & The New Media Ecology: Who Will Pay The Messenger?"  This irritated me. The question should have been "who will subsidize news production?" because news production has always been subsidized by someone or something.  Very rarely have users paid directly the costs of...
Rebooting the News System in the Age of Social...
Here are the ten key ideas I plan to share with the Media140/Sydney conference underway right now in Sydney, Australia. I will be speaking to the conference via Skype in a few hours.  The theme of the event is "the future of journalism in the social media age."  These ten Twitter-able ideas are my contribution to that puzzle. 1. Audience atomization has been overcome. (Link) 2. Open...
Mindcasting: defining the form, spreading the meme
A method I endorse is to understand things by participating in them. By doing your own thing, you learn the difference between possible actions (what you can do with the system) and likely behavior: what most people will tend to do when that system is switched on for them. Forget this difference and you foreclose on your invention. I started about a year ago in my project to understand Twitter by...
I am not a newpaper gravedancer, but if ever I was...
The Tuscon Citizen Our Opinion: Seeking answers? Published: 05.16.2009 For those of you looking to this space for perspective on the Citizen's demise, for those looking for What It All Means - you are looking in the wrong place. Excuse us, but we're a little too close to the situation right now. Do you ask someone how it feels when a relative dies after a long bout with cancer?...
Massively Multi-Player Denial: When Do We Grok the...
The problem lay not so much with the poverty of the underlying theory as with selective reading of it—a selective reading shaped by the social milieu. That social milieu encouraged financial decision makers to cherry-pick the theories that supported excessive risk taking. It discouraged whistle-blowing, not just by risk-management officers in large financial institutions, but also by the...
Freud Called it The Reality Principle. Repealing...
1. "Left to Just Study What We Do." The aide said that guys like me were "in what we call the reality-based community," which he defined as people who "believe that solutions emerge from your judicious study of discernible reality." I nodded and murmured something about enlightenment principles and empiricism. He cut me off. "That's not the way the world really works anymore," he continued....
Catch that term "poly-partisan?" It's new. (New...
PoliticsDaily is the brainchild of Martin Moe, senior vice president at AOL, and is built under Bill Wilson's new MediaGlow division, which is building new content brands distinct from AOL itself. Moe says that while the Huffington Post is largely a content aggregator, has a leftward bent, and doesn't pay many of its bloggers, PoliticsDaily will be 100% original content from "experienced" paid...
Infantalizing the Readers By Disabusing Them of...
1. The New York Times' Peter Baker, who reported on the Clinton and Bush 43 administrations for the Washington Post, said that the Obama administration is "in some ways … more transparent," but in other ways, "they're just like every other White House." Baker said that while the Obama team will engage with reporters more than the Bush team did, the traditional...